Introducing risk management to wealth planning - new solutions for nordics
The Swedish and Finnish insurance markets are currently witnessing a major product development evolution in terms of the Luxembourg product offer. Several Luxembourg-based insurance companies are introducing high-value risk policies for wealthy investors and entrepreneurs. This recent product development trend is rather unique - and no doubt the biggest product innovation that the Nordic markets have seen since the introduction of unit-linked policies in the 1990s'.
GROWING NEED
The need driving this development is simple: wealthy individuals and entrepreneurs need to have a real risk management plan in order to reduce the financial impact of unforeseen and negative events. Wealthy investors and entrepreneurs are coming to understand the value of these new solutions as a key component in their plans to build and retain wealth over the long-term.
This new risk management solution can be best implemented alongside the more traditional wealth planning schemes such as the use of a Luxembourg based unit-linked insurance policy. 
The new global Luxembourg offer, that combines risk management and wealth planning, is greatly adding to the value that Luxembourg companies can bring to Swedish and Finnish wealthy investors and entrepreneurs. This greatly enhanced client solution can be offered as part of a "one stop" package. Thanks to these new risk policies, Luxembourg insurers can offer solutions that help limit risk in respect of both short-term liquidity events – such as death – and over the longer term by providing wealth and succession planning solutions. 
Growing wealth, the increasing number of generational change situations (such as family company transfers to the next generation), as well as the acceleration of wealth through successful new technology M&A opportunities in Nordics are all driving forces for the growing holistic wealth planning demands that Luxembourg companies are now aiming to satisfy. 
TYPICAL CLIENT AND THEIR NEEDS
A typical client is a wealthy Nordic investor or entrepreneur who has significant wealth in illiquid assets, such as real estate or unquoted structured products, or is an owner of a family-company. There is much talk about « Asset rich, cash poor » clients for whom the main concern is not the paying of taxes per se, but to have enough liquidity to be able to pay the taxes in the required short time period. The new solutions are aimed at just that: creating liquidity for the client.
Contrary to the common perception, the clients for these new high-end risk policies can be relatively young (say between 30 and 60 years of age). These are the next generation family-company owners. A younger age of the clients is of great importance, as it ensures lower annual risk premiums and, in general, a smaller percentage of policy refusals due to the medical underwriting process.
PRODUCT OFFERED
In terms of the new solution to create liquidity for the client, there are three forms of high-value risk policies for Sweden and Finland: 
High Death Benefit – HDB for Term Life cover: this is standalone death benefit plans (cover), normally done for a fixed period of years. There is no surrender value or investment element. A risk premium is typically paid annually 
Key Man Insurance – KMI : this is a risk policy where the policyholder is a company and the key man (often the CEO or a senior key person in the organisation) is the life assured ; beneficiaries can be both close relatives and the company. A risk premium is typically paid annually
Variable Universal Life – VUL : this is structured as a high death benefit policy bolted onto a (Swedish or Finnish) compliant unit-linked platform; it combines the benefits of both a clearly defined investment strategy (which invests a lump sum in investable assets) and protection needs (a significant death benefit solution). The risk premium is automatically deducted from the investment portfolio 
Example A - Situation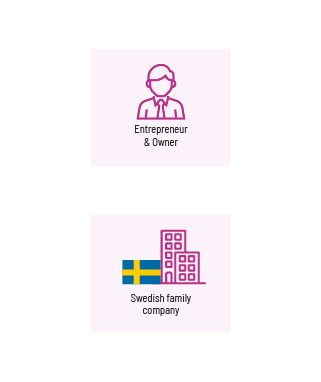 Eventuality of the entrepreneur death
Crash 
Inability to pay enough dividends
Inability to create liquidity in order to : 

equalize the family inheritance
settle other dents
Indeed, the only way to provide enough cash in an inheritance crisis might be to sell illiquid productive assets of the company, at less than market value, putting the company's future in great danger as well as the wealth transfer to the next generation.
Solution



Example B - Situation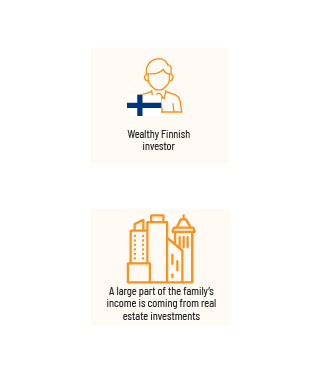 Objective
Provide sufficient liquidity to pay the 19% Finnish inheritance tax upon death.
Issue
In absence of availability of family liquidity: 
selling illiquid assets often at lower than market prices or to have other unnecessarily expensive solutions in place.
liquidating the real estate assets would also signify an important decrease in the family income in the future.
Solution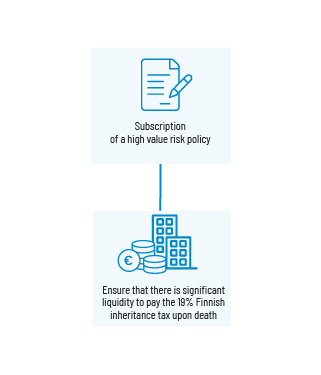 SUMMARY
High-value risk insurance not only provides significant "peace of mind" for families because it is very simple way to get cash, but it is also a unique instrument to avoid the risk of selling productive assets, or real estate in bad market conditions, thus generating well below market value outcomes.
The contents of this theme
What is a "high-value risk" life insurance policy? It is a Luxembourg life insurance policy
It is a Luxembourg life insurance policy specifically offered to clients resident in the Nordic countries and which aims to generate liquidity for the client by setting up an estate planning solution. This contract is mainly aimed at a clientele of second-generation business owners.