Back to the list of contributors
Laura
Paganini
CEO of Ser-Fid Italiana S.p.A.
Laura Paganini is chartered accountant duly registered under Ordine Dottori Commercialisti of Milano, accountant auditor under the Minister control, duly registered at CFE Tax Advisers Europe, Technical Counselor of Milan Court of and CEO of Ser-Fid Italiana S.p.A., a private fiduciary company registered in Milano since 1996.
With approximately 25 years of successful career behind her, she has practiced not only traditional chartered accountant activities and audit, but also accountability for CTU. In addition, she follows the development and growth of the fiduciary company activities. 
Her work focuses on satisfying people's wealth necessities, assisting them in their choices and fulfilling both fiscal and civil obligations. The same commitment applies to her dealing with companies as well. By such means, both the natural person and the company would be assisted directly or by the fiduciary company.
One of the main interest is the international aspect of banking and insurance solution, knowing the relative legislation and all the wealth management activities.
She's also a public speaker and write articles on topics relative to generational change, insurance and fiduciary news.
She speaks Italian, French and English.
PUBLICATION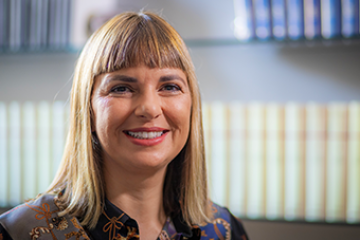 The Italian fiduciary and its role as a life insurance contract intermediary.