Unlisted assets and life insurance: which restrictions?
Unlisted assets are investment products not listed on the stock markets. They are generally for well informed investors who want to diversify part of their investments. 
It is possible to hold these assets as underlying assets of a life insurance contract according to the rules issued by the Commissariat aux Assurances.
Related products



The types of policy eligible under Circular 15/3 from the Commissariat aux Assurances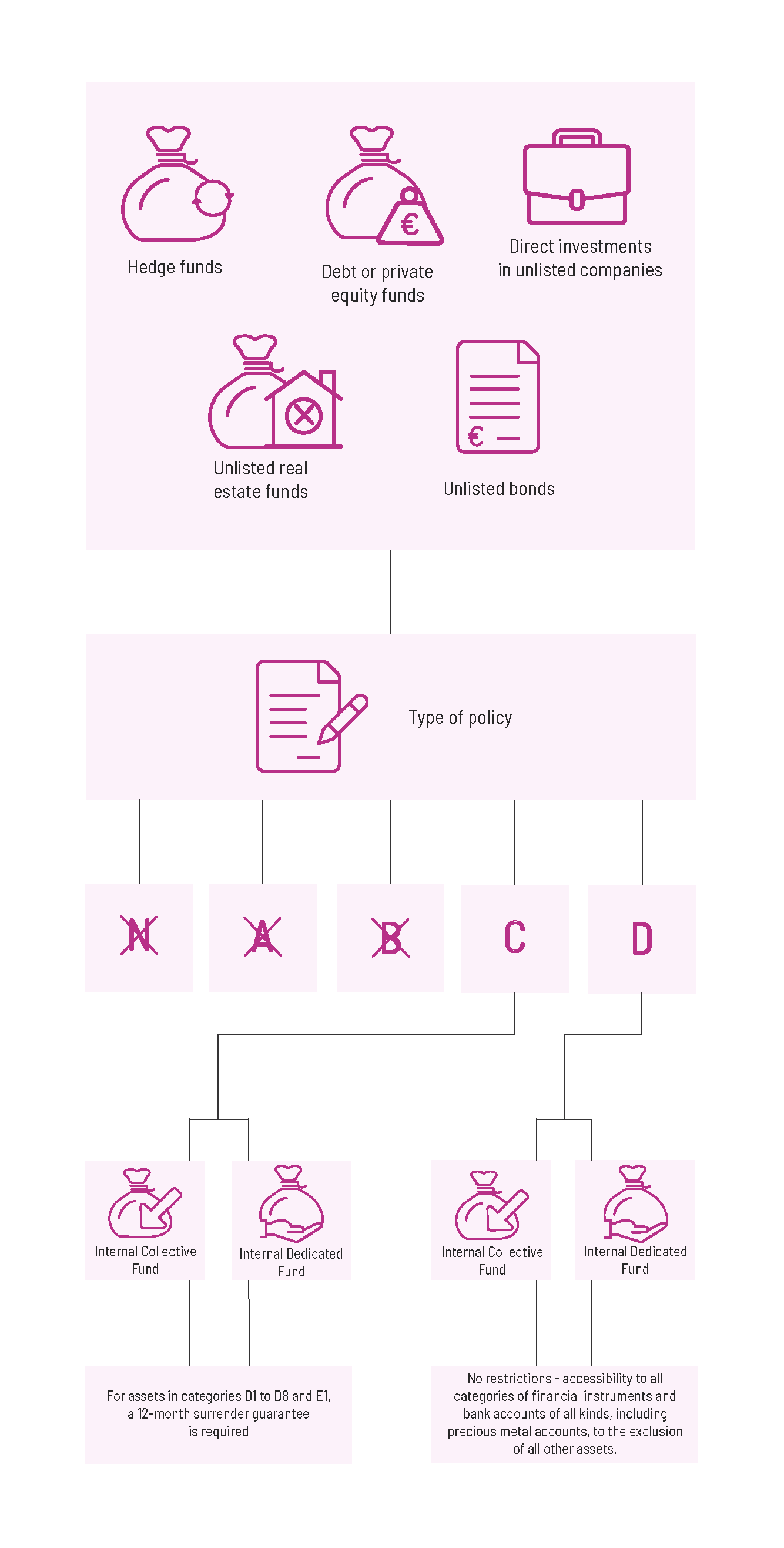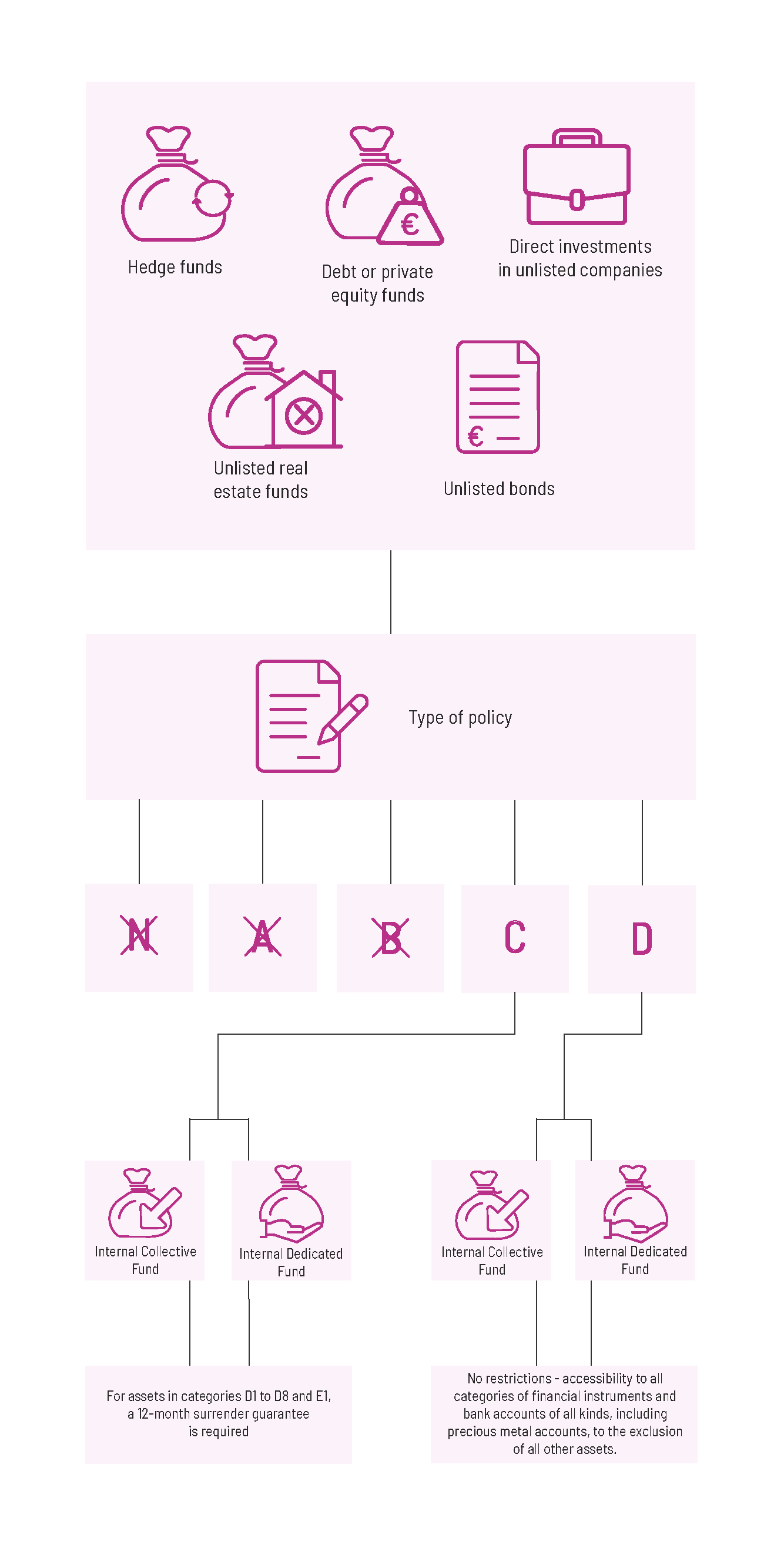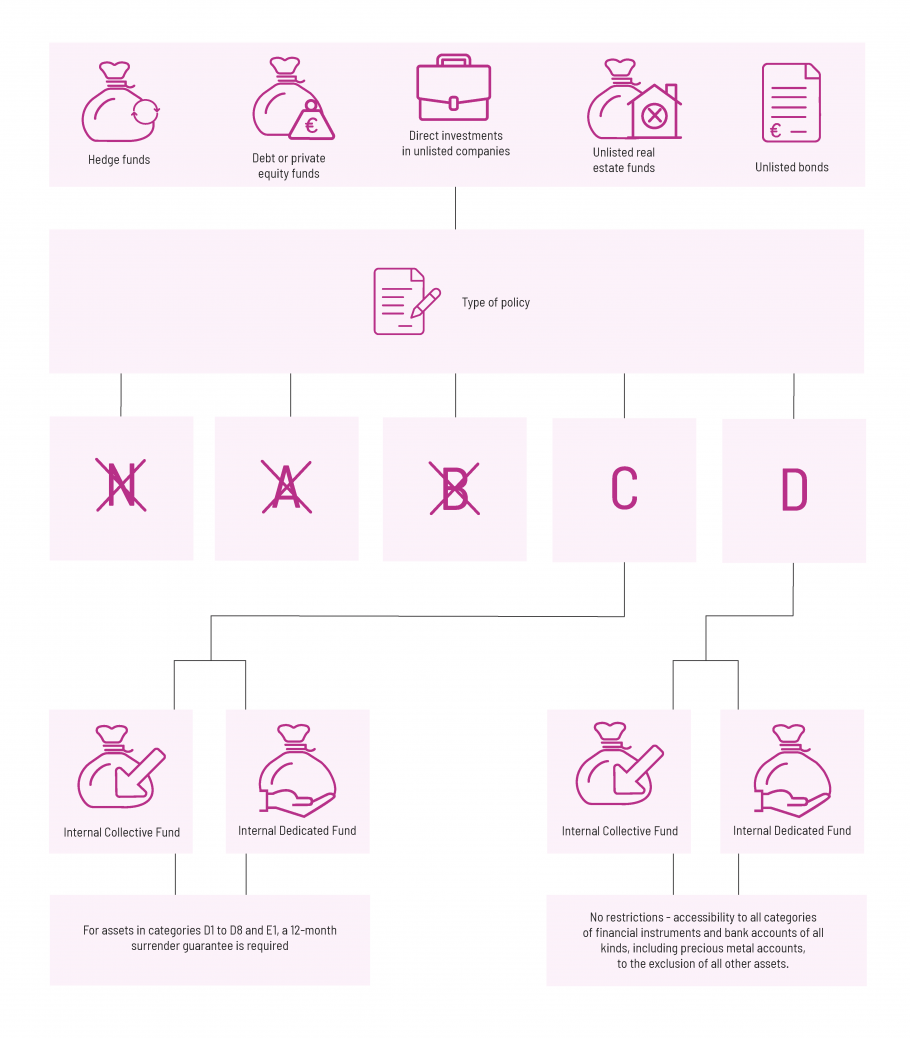 Main advantages of unlisted securities in a life insurance policy
Absolute return

Benefit of diversification

Performance objective not assessed on the basis of benchmarks.

A hurdle rate6 is often introduced as a minimum objective to be achieved by the managers, since below this threshold they will not be remunerated on the basis of their performance

Relatively weak correlation with traditional assets (listed equities and bonds).

Potential reduction in the overall volatility of the investor's portfolio, while offering new sources of returns.
Main constraints of unlisted securities in a life insurance policy
Valuation risk
Liquidity risk

These products are not regularly quoted and cannot be traded on regulated markets. 

The price can be set quarterly, semi-annually or annually : delaying valuation beyond the current period.

Valuations of unlisted investments are based on assumptions, internal models and judgements made by fund managers or assessors which may artificially increase the beneficial diversifying effect of an investment in the portfolio.

In the event of: 

a request for surrender of the policy by the policyholder;
the death of the policyholder;
expiry of the policy.

For example, Private Equity investments may have a life of eight years, which may be extended without any possibility of surrender by the investor. 
1 Hedge funds :alternative funds which are private and offer broader investment opportunities than UCITS through the use of derivatives, short selling or leverage, for example. These funds offer attractive remuneration for their managers based on the performance of the vehicle.
 
2 Debt funds (mezzanine, distressed debt) or private capital funds (venture capital or leveraged buyout). These different forms of investment are each specific in that they contribute to the financing of companies at different stages of their development, or in different parts of the company's capital structure.
3 Direct investments in unlisted companies through equity investments in these companies (ordinary shares, preference shares, convertible bonds).
4 Unlisted real estate funds which do not permit surrender until the end of the fund's term.
5 Unlisted bonds: debt securities issued by private companies which are not traded on regulated markets.
 
6Hurdle Rate: the threshold above which the fund managers will be able to claim a carried interest (i.e. a performance-related profit share).
 
The contents of this theme
Advantages and constraints of unlisted investments in a Luxembourg life insurance policy.
It is possible to hold unlisted investments in a Luxembourg life insurance contract, depending on a risk profile and the regulation 15/3 of the Commissariat aux Assurances. It allows to benefit from a wide diversification of the portfolio. However, it is necessary to be aware of the valuation constraints of these assets which are not listed on a regular basis and to the liquidity problems which may arise.